The whole internet consists of links. Your website contains potentially hundreds or thousands of links. We can classify links into two main groups, internal and external links. Internal links point to URLs on your domain, and external links point to URLs outside of your website and domain. Handling links and keeping them in working order is very important for every website. Having broken links on your website can hurt your rankings and decrease visits to your website. And monitoring all links manually seems impossible, especially if you have many links. Luckily, some tools and plugins can help you automate this process and save you the time and hassle of checking it manually.
The WP Links plugin is one of the best solutions online for WordPress websites. It helps users handle all links on their websites. This plugin does not only check for broken links but also gives you the option to modify and customize many different settings related to both internal and external links.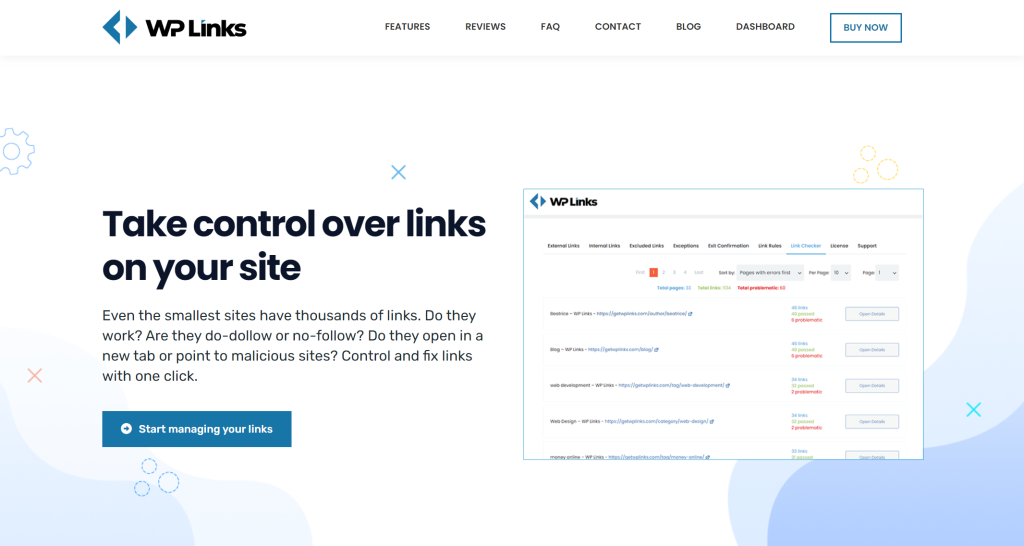 Customization of internal and external links includes the option to define where the links will be opened when clicked on. Here you can choose to open links in the same window or tab, each link in a separate window or tab, all in the same window or tab, or the topmost frame, with the last two options not being recommended for use. Other options include the toggle for overwriting existing values, setting follow or nofollow attributes, adding values to the "rel" attribute such as "noopener", "noreferrer", "external", etc., setting the title attribute, adding CSS classes, as well as adding and choosing icon type.
Another great feature is the possibility to create exceptions for previously set up rules or settings. These exceptions can be applied to posts, comments, widgets, or all of them. All you have to do is put in the ID in the designated field. You can also define exceptions by the CSS classes defined on link elements. You can choose to treat all links to the website's domain and subdomains as internal links, and input URLs as a list that should be excluded from the rules, etc.
In some cases, you want to notify users about their click actions, and the Exit Confirmation option is a great way to do that. You can set up a popup window message easily with custom text. Here you can customize everything from window size, text size, background colors, text fonts, text colors, overlay transparency, and overlay colors, to the button color, button text size, and button text color.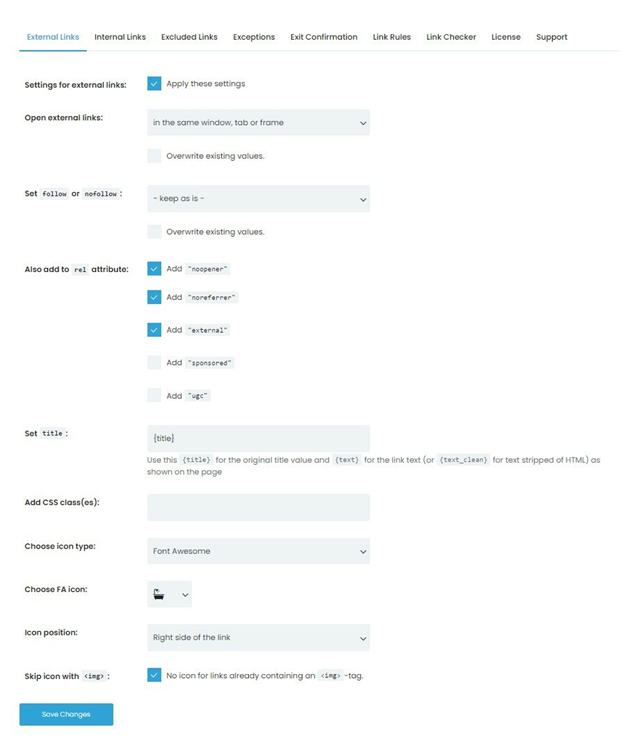 You can also create Link Rules for links containing defined keywords. You can set priority for these settings, add values to the "rel" attribute, choose what to do with existing "rel" values, add CSS classes, add icons, etc. So, for example, you can set up a rule to add a certain icon for links containing a keyword like "apple".
The Link Checker tool scans your website for any broken URLs. It looks for any errors such as the 404 error, redirected URLs, URLs leading to malicious websites, etc. If any bad link is found, this tool will show it in its location which makes it very easy to fix without spending time finding it. The tool does not use any WordPress data, it accesses the website just like any other visitor and checks links on every post, only accessing publicly available pages.
If you like this plugin, then you should also consider the following plugins. The WP Force SSL is a great plugin for website security and SSL configuration. It provides the possibility to easily set up an SSL certificate in one click and also monitor for any errors that arise. Also, WP Maintenance is a very powerful plugin that helps you perform any updates and maintenance without losing on Google rankings. This is possible thanks to the option to close the website for maintenance and display a "Service Temporary Unavailable" page or an authorization page.
Feel free to try any of these plugins, they come with a 7-day money-back guarantee for PRO versions. Free versions of these plugins are also available without any payments needed, however, they do not have all of the functionalities.